Tenerife climate
On availability and final price
Your request will be checked with our booking data in real time, so availability status is up to date. However, availability can change during your request due to unreviewed offers. We recommend to book directly (check the mark in our contact form), not just to request. The final price includes towels, bath gowns, bed linen and final cleaning, and, if applicable, any discount or additional charge.
On children (up to 6 years)
Please give the number of children up to 6 years Children up to 2 years: Baby bed and high chair 40€ for the whole stay. Children up to 6 years: childrens bed and high chair 10€ per night. If you would like to have your children accomodated in their own room, please make sure, the number of bedrooms fits your needs. Each additional bedroom will be charged.
On bedrooms and pricing
Please enter the amount of bedrooms you'll need, final price will be computed by number of bedrooms. Additionally we have a different price per letting based on the number of bedrooms in use. If you book with children 3–6 years old, you do not need to change the number of bedrooms, else a higher price will be computed
Airport Tenerife South (TFS)
We recommend our guests to travel to airport Tenerife South (TFS) Reina Sofia
| TFS Airport | Distance | Time by car |
| --- | --- | --- |
| Finca Montimar (Chio) | 25 miles | 35 min. |
| Finca SanJuan Batista | 25 miles | 35 min. |
| Finca Alcalá | 23 miles | 25 min. |
| Villa Andalucía (Chayofa) | 10 miles | 15 min. |

The difference between Tenerife north and south
Tenerife climate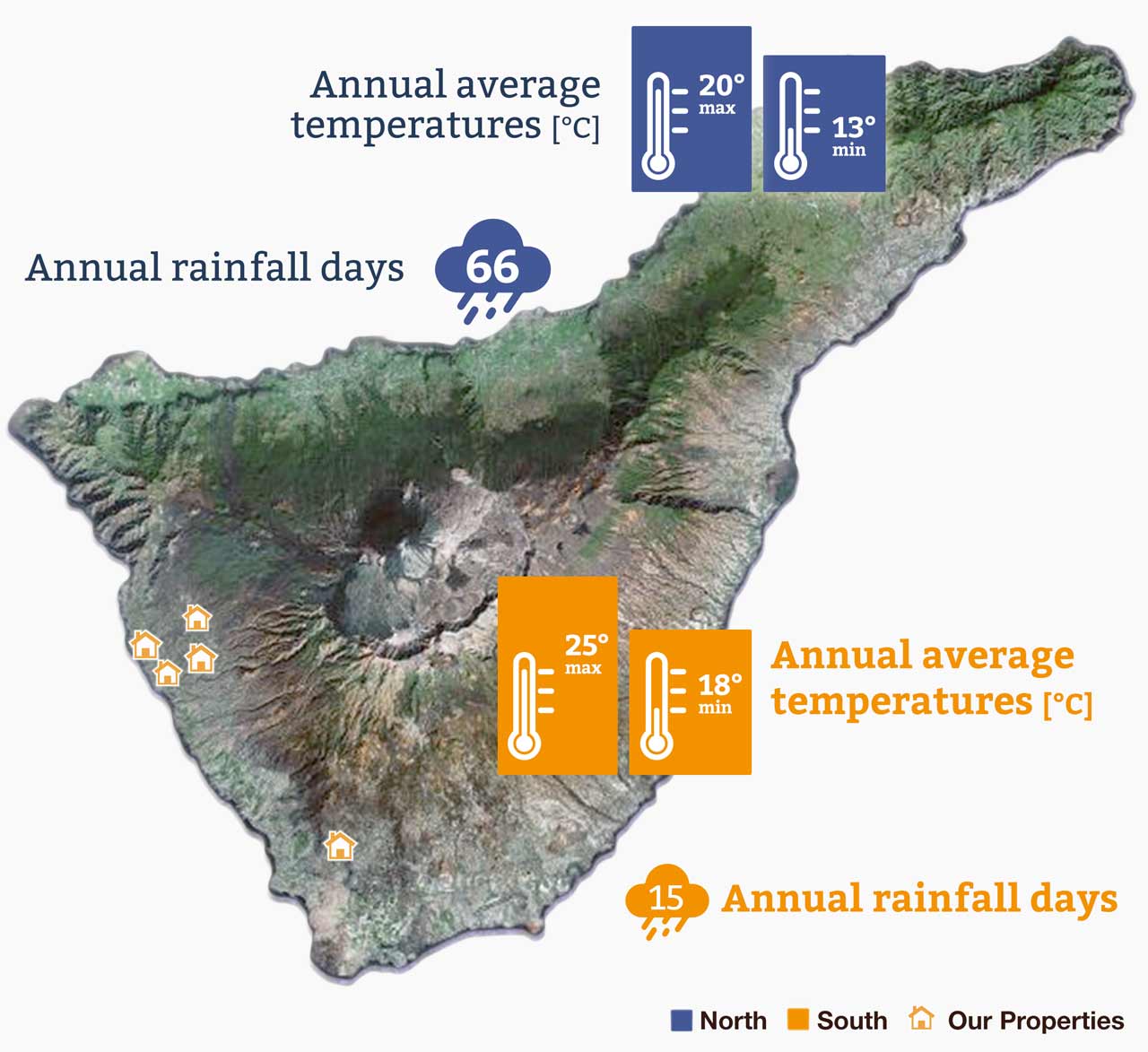 Mount Teide is the reason for the stable, sunny weather in the southern part of Tenerife. For the moisture brought by the trade winds from the north condenses in the dense pine forests of the northern slopes of Las Cañadas and makes the north of the island green and fertile but also somewhat cooler and more unstable in the weather. The protected south of Tenerife, on the other hand, is blessed with more than 350 rain-free days a year, with mild temperatures throughout the year. The temperature rarely falls below the 20 ° C mark in the coastal regions, even in December or January, usually only in the evening and at night. Even in this season you can expect more than six hours of sunshine per day. Excessive heat with days over 35 ° C you rarely experience on Tenerife. This stable climate is unique in Tenerife and throughout Europe.
Exact climatic data month by month
The exact climatic data for the south of Tenerife can be found in the table. Further information in Spanish and English is available at aemet.es, the Spanish Institute of Meteorology and at klimadiagramme.de in german language.
Holiday resorts in the south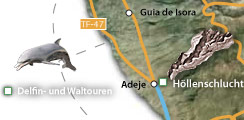 Ihren Urlaub planen:
Klick auf die Karte
Tenerife Hiking:
Tenerife is a hiking paradise, whether in the north or south or east or west. Due to the mild climate and the many hours of sunshine, hikes are possible throughout the year.
Example tours:
Canal walk »
Pictures Tenerife landscapes »
Discover Tenerife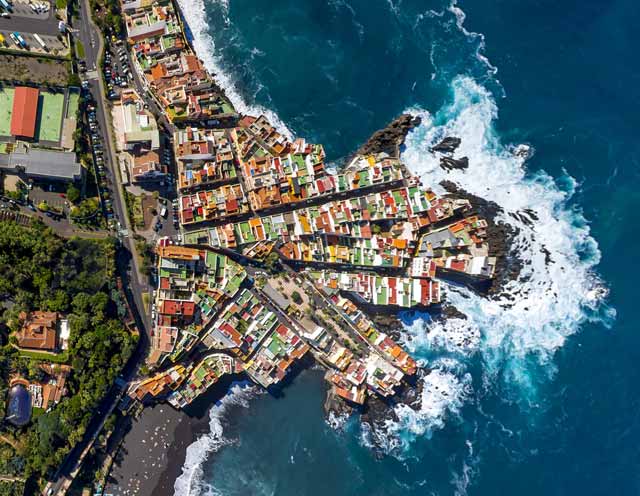 Explore the diverse landscapes in 360° panoramic pictures, provided by webtenerife.com.
Auditorio de Tenerife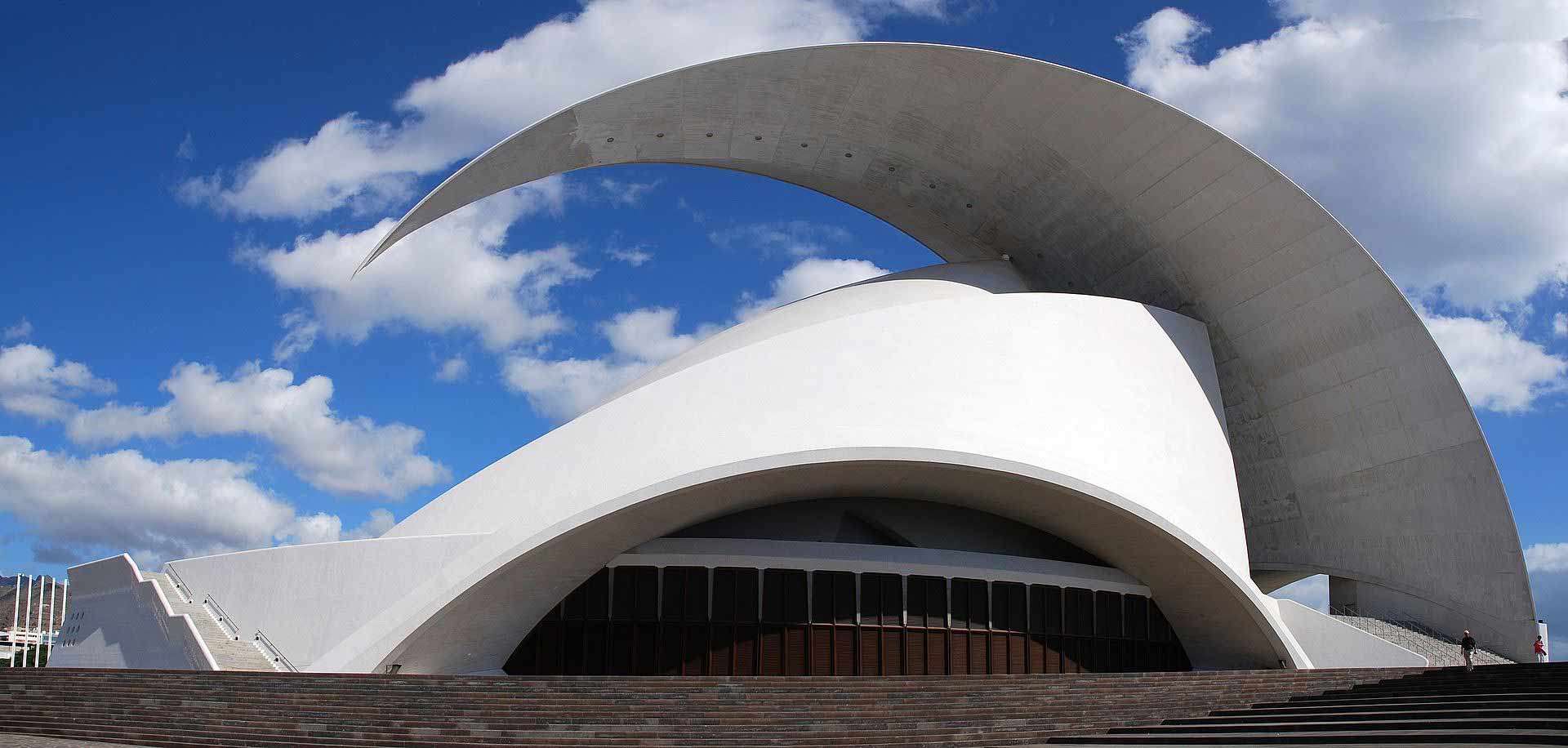 Tenerife is home to an iconic opera house, that easily compares to Sydney Opera. One of the best symphonic orchestras of spain is located in the Auditorio de Tenerife.

Auditorio de Tenerife on Wikipedia »