On availability and final price
Your request will be checked with our booking data in real time, so availability status is up to date. However, availability can change during your request due to unreviewed offers. We recommend to book directly (check the mark in our contact form), not just to request. The final price includes towels, bath gowns, bed linen and final cleaning, and, if applicable, any discount or additional charge.
On children (up to 6 years)
Please give the number of children up to 6 years Children up to 2 years: Baby bed and high chair 40€ for the whole stay. Children up to 6 years: childrens bed and high chair 10€ per night. If you would like to have your children accomodated in their own room, please make sure, the number of bedrooms fits your needs. Each additional bedroom will be charged.
On bedrooms and pricing
Please enter the amount of bedrooms you'll need, final price will be computed by number of bedrooms. Additionally we have a different price per letting based on the number of bedrooms in use. If you book with children 3–6 years old, you do not need to change the number of bedrooms, else a higher price will be computed
Airport Tenerife South (TFS)
We recommend our guests to travel to airport Tenerife South (TFS) Reina Sofia
| TFS Airport | Distance | Time by car |
| --- | --- | --- |
| Finca Montimar (Chio) | 25 miles | 35 min. |
| Finca SanJuan Batista | 25 miles | 35 min. |
| Finca Alcalá | 23 miles | 25 min. |
| Villa Andalucía (Chayofa) | 10 miles | 15 min. |
Villa Andalucia, 10 Schlafzimmer, Chayofa
approx. 300m above sea level
Superb private holiday villa with private Pool & beautiful garden:
Villa Andalucia, 10 Schlafzimmer, Chayofa
Chayofa is an exclusive suburb to Los Christianos, located approx. 3 km uphill approx. 300m above sea level. The property Villa Andalucía is located in a densed developed and well maintained residential area. The estate offers dream views of the coast of Los Cristianos and Playa de Las Americas to the Atlantic ocean. You can reach the sandy beaches of the south and Costa Adeje in a few minutes by car.
Villa Andalucía owns a private pool area and a private garden. Two separate apartments in the baseement of the villa will not be rented separately to not disturb your privacy in the main villa. Together with these two apartments the estate can accomodate up to 30 persons. Due to the location in a quiet surrounding neighborhood please be aware that the estate is not available for extravagant loud parties, but of course it is definitely available for your family party or company trip (meeting facilities available).




Holiday home detail

Villa Andalucia, 10 Schlafzimmer, Chayofa





Category

Private villa

Resort

Situation

densely developed suburb, villa in a private garden

Rooms

10 Bedrooms, 8 Bathrooms, Living room, Dining Area, Kitchen

Bedrooms

10bedrooms

Kitchen

large, fully equipped kitchen with cooking island, two fridges with freezer, oven, dishwasher, microwave, ceramic stove-tops, Jura espresso/coffee machine, etc.. Two further kitchens in separate apartments in the same building

Bathrooms

6 bathrooms, partly en suite, separate guest bathroom, 2 further bathrooms in separate apartments

Furnishings

sea view, private terrace, private garden, swimming pool, bar (self-service), Wifi Internet, satellite television, fireplace, heating, air condition, bidet, washing machine, dishwasher, oven, coffee machine, barbecue, parking lot, conference room available,

Living space

350sqm

Outdoors

1'800 sqm estate with pool, terraces and garden.

garden furniture, sunbeds, barbecue
outdoor dining area for 16 persons
private pool area with pool bar (self-service)
washing machine

Distances

Airport TFS: 12.0 km
Next beach: 3.0 km
Next golf course: 4.0 km
Next village: 1.0 km


Ideally located in the heart of the island, all golf courses, the beaches and the amusement parks in the south are easily reached within minutes.

Sleeps

max. 25 Pers.

Basic rent

from 405.0€/day. Minimum stay 6 nights


Full rent

from 405.0€/day
to 1010.0€/day

Note: From Dec 18th to Jan 8th, there is a 15% peak-season surcharge and a minimum stay of 14 days.
Exceptions are possible.



» Receive your obligation-free quote for Villa Andalucia, 10 Schlafzimmer, Chayofa now!
Extraordinary estate with tropical garden and private pool area
Located in a tranquil suburb of Los Cristianos, it is just a few minutes from the pulsating centres of tourism and the beautiful beaches in Tenerife south, but you will stay here in an exclusive holiday atmosphere off the beaten tracks.
---
Note:
The property is not suitable for extravagant parties: noise is to be avoided, Siesta 1:00 p.m. to 3:00 p.m. (mid-days rest), the night's rest begins from 22 p.m..
1'800 sqm estate with pool, terraces and garden. Offers great view of the Atlantic ocean. Suitable for groups up to 30. 3 km above Los Cristianos in the south of Tenerife. Supermarket and Restaurants nearby, golf courses and tennis court reachable within 15 minutes.
Ideally located in the heart of the island, all golf courses, the beaches and the amusement parks in the south are easily reached within minutes.
This estate consists of three units, all have WiFi internet access: Main villa with 7 bedrooms and 5 bathrooms and exclusive access to the swimming pool, pool bar (self-service) and the garden with barbecue and dining area. Apartment 1 (to be rented separately) with 1 bedroom and bathroom has a separate entrance and its own terrace. Apartment 2 with own entrance with 2 bedrooms, bathroom and winter garden may also be rented separately. Renting the estate in whole prvides you with a total of 20 regular sleeps (single beds and double beds) or 24 sleeps, when using sofa beds. Ask for conditions for your company event or family event.
---
Reviews
---
---
Tenerife Hiking:
Tenerife is a hiking paradise, whether in the north or south or east or west. Due to the mild climate and the many hours of sunshine, hikes are possible throughout the year.
Example tours:
Canal walk »
Pictures Tenerife landscapes »
Discover Tenerife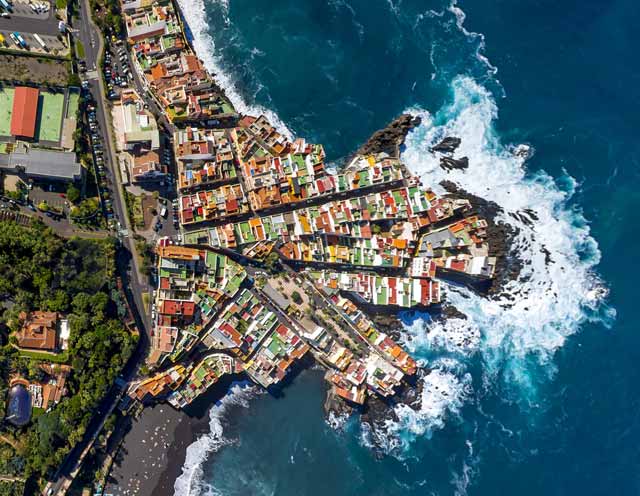 Explore the diverse landscapes in 360° panoramic pictures, provided by webtenerife.com.
Auditorio de Tenerife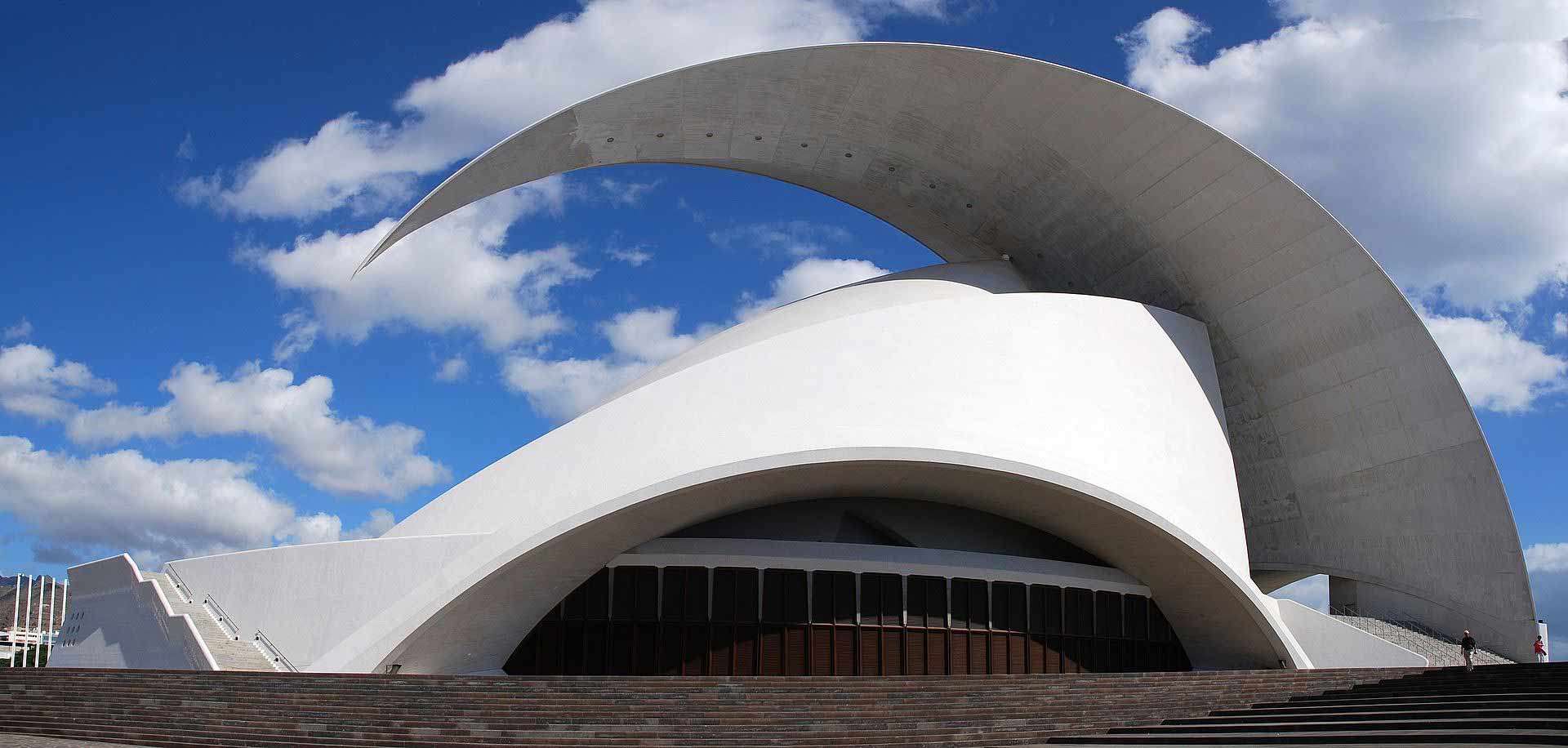 Tenerife is home to an iconic opera house, that easily compares to Sydney Opera. One of the best symphonic orchestras of spain is located in the Auditorio de Tenerife.

Auditorio de Tenerife on Wikipedia »