Villa Andalucia (20-25 10)
expand +
close -
---
---
---
---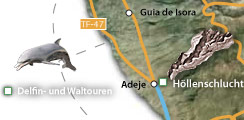 Ihren Urlaub planen:
Klick auf die Karte
Superb private holiday villa with privatem Pool & beautiful garden

Chayofa is an exclusive suburb to Los Christianos, located approx. 3 km uphill. The property is located in a densed developed and well maintained residential area. The estate offers dream views of the coast of Los Cristianos and Playa de Las Americas to the Atlantic ocean. You can reach the sandy beaches of the south and Costa Adeje in a few minutes by car.

This estate consists of three units, all have WiFi internet access: Main villa with 7 bedrooms and 5 bathrooms and exclusive access to the swimming pool, pool bar (self-service) and the garden with barbecue and dining area. Apartment 1 (to be rented separately) with 1 bedroom and bathroom has a separate entrance and its own terrace. Apartment 2 with own entrance with 2 bedrooms, bathroom and winter garden may also be rented separately. Renting the estate in whole prvides you with a total of 20 regular sleeps (single beds and double beds) or 24 sleeps, when using sofa beds. Ask for conditions for your company event or family event.

Ideally located in the heart of the island, all golf courses, the beaches and the amusement parks in the south are easily reached within minutes.

Note: The property is not suitable for extravagant parties: noise is to be avoided, Siesta 1:00 p.m. to 3:00 p.m., the night's rest begins from 22 p.m..
Units available at Chayofa
Guest quotes on Villa Andalucia (20-25 10)
Bewertung von Marks Sebastian bei Ferienhaus Canarias

Positives zum Objekt

Wir waren mit 20 Personen für eine Woche in dieser traumhaften Villa. In Wirklichkeit ist sie noch 1000 x schöner, als auf den Fotos. Die Vermieter waren super lieb und zuvorkommend. Alle 20 Personen waren rundum begeistert von ihren Zimmern und den Bädern. Die gesamte Anlage und die Umgebung waren der Hammer. Falls ihr die Finca mietet, fragt die Vermieter unbedingt nach dem sympathischen Koch Christian. Er serviert euch für wenig Geld ein super, leckeres BBQ, bei dem ihr euch um nichts kümmern müsst. Wir haben jetzt schon total Fernweh und planen schon unsere nächste Reise in diese wunderschöne Villa. Danke für diese unvergessliche Zeit und bis bald :)

Teneriffa Tip des Kunden

Einkaufen waren wir meistens im Dino Supermarkt in der Siam Mall. Der Fahrtweg beträgt zwar 20 min, aber es lohnt sich, da die Auswahl sehr groß ist und die Preise etwas günstiger sind.
Direkt daneben ist der Siampark, man kann das gleich verbinden :) Ansonsten lohnt sich der berühmte Loro Park immer wieder und eine Fahrt auf den Teide ist natürlich auch ein Muss :)

Anregungen zum Objekt

Alles rundum super. Ich wüsste nicht, was man besser machen kann..
Sebastian Marks » see all reviews
Detailed Description
Property type

Private villa, 350 sqm

Description

1'800 sqm estate with pool, terraces and garden. Offers great view of the Atlantic ocean. Suitable for groups up to 24.

Location

Chayofa (Arona) is 3 km above Los Cristianos in the south of Tenerife. Supermarket and Restaurants nearby, golf courses and tennis court reachable within 15 minutes.

Living spaces:

Main villa:

Bedrooms (accomodate 13)

4 bedrooms with double bed and bathroom ensuite (master suite with air condition/heating)
2 bedrooms with double bed
1 bedroom with single bed
more bedrooms available in apartments in the same estate (rented separately)

Bathrooms

with towels, bathgowns, hairdryer

Living room
Dining area
Kitchen

fully equipped, two fridges with freezer, oven, dishwasher, microwave, ceramic stove-tops, Jura espresso/coffee machine, etc.

Outside, garden and terraces

garden furniture, sunbeds, barbecue
outdoor dining area for 16 persons
private pool area with pool bar (self-service)
washing machine
conferenc room available inhouse

Accomodates

Max. 25 in main villa (whole estate accomodates up to 24)

Price

405 €/day (up to three bedrooms)
1010€/day (with all bedrooms)
additional person on sofa bed 15€ each

Note: From Dec 18th to Jan 8th, there is a 15% peak-season surcharge and a minimum stay of 14 days.
Exceptions are possible.



» Receive your obligation-free quote for Villa Andalucia (20-25 10) now!


back to homepage sued-teneriffa.de