Chayofa
approx. 300m above sea level
On availability and final price
Your request will be checked with our booking data in real time, so availability status is up to date. However, availability can change during your request due to unreviewed offers. We recommend to book directly (check the mark in our contact form), not just to request. The final price includes towels, bath gowns, bed linen and final cleaning, and, if applicable, any discount or additional charge.
On children (up to 6 years)
Please give the number of children up to 6 years Children up to 2 years: Baby bed and high chair 40€ for the whole stay. Children up to 6 years: childrens bed and high chair 10€ per night. If you would like to have your children accomodated in their own room, please make sure, the number of bedrooms fits your needs. Each additional bedroom will be charged.
On bedrooms and pricing
Please enter the amount of bedrooms you'll need, final price will be computed by number of bedrooms. Additionally we have a different price per letting based on the number of bedrooms in use. If you book with children 3–6 years old, you do not need to change the number of bedrooms, else a higher price will be computed
Airport Tenerife South (TFS)
We recommend our guests to travel to airport Tenerife South (TFS) Reina Sofia
| TFS Airport | Distance | Time by car |
| --- | --- | --- |
| Finca Montimar (Chio) | 25 miles | 35 min. |
| Finca SanJuan Batista | 25 miles | 35 min. |
| Finca Alcalá | 23 miles | 25 min. |
| Villa Andalucía (Chayofa) | 10 miles | 15 min. |
Holiday villa vith great views of the Atlantic ocean
Oasis of style, elegance and peace in a suburb
Ruhig gelegen, und doch nur einige Minuten Fahrt hinunter zu den Touristen-Hotspots und Traumstränden des Südens – das ist die Villa Andalucía in Chayofa, einem von Villen geprägten Vorort von Los Cristianos. Sie residieren hier stilsicher und in einer für Ihren exklusiven Urlaub angemessenen Atmosphäre. Die Villa verfügt über eine exklusiv zu nutzende Poollandschaft und einen abgeschlossenen Garten.
Die gepflegte Anlage bietet eine Poolbar in Selbstbedienung und einen Dinnerbereich im Garten mit Möglichkeit zum Barbecue oder Paella. Auf Wunsch bereiten unsere erfahrenen Köche ein romantisches Menü für zwei oder Paella und Barbecue für eine Fiesta für zwanzig Personen.
Von zahlreichen Terrassen blicken Sie hinunter zur Atlantikküste, über Playa de Las Americas und Los Cristainos hinweg auf das Meer.

WiFi Internet is available and free of charge.
Travelling with a group
Villa Andalucía owns a private pool area and a private garden. Two separate apartments in the basement and groundfloor of the villa will not be rented separately to not disturb your privacy in the main villa. Together with these two apartments the estate can accomodate 20 to 25 persons.
Due to the location in a quiet surrounding neighborhood please be aware that the estate is not available for extravagant loud parties, but of course it is definitely available for your family party or company trip.

Catering offer click the following link Catering offer
Overview on Villa:
Reviews

---
Holiday homes of Villa Andalucia Total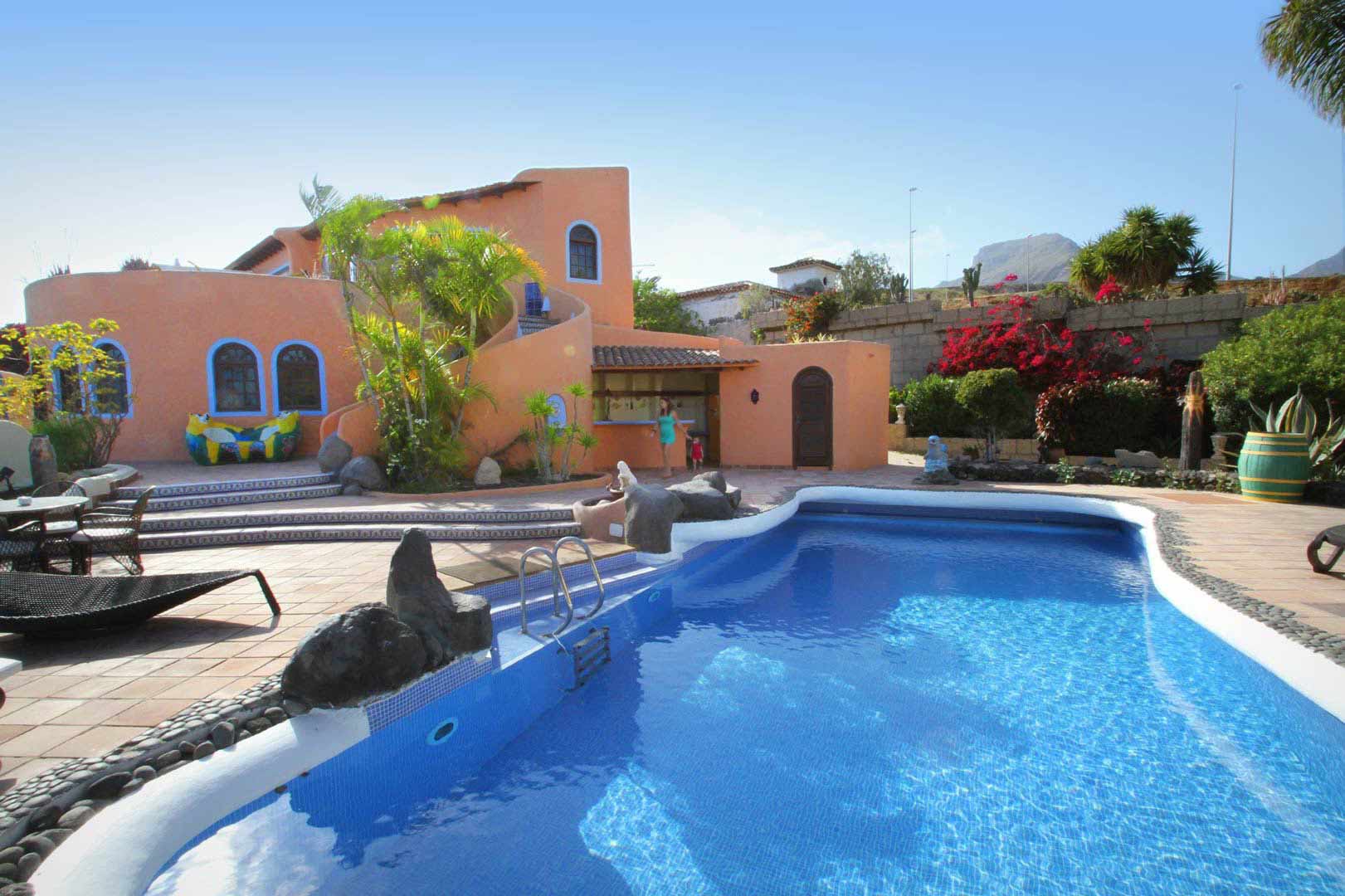 See details
Tenerife Hiking:
Tenerife is a hiking paradise, whether in the north or south or east or west. Due to the mild climate and the many hours of sunshine, hikes are possible throughout the year.
Example tours:
Canal walk »
Pictures Tenerife landscapes »
Discover Tenerife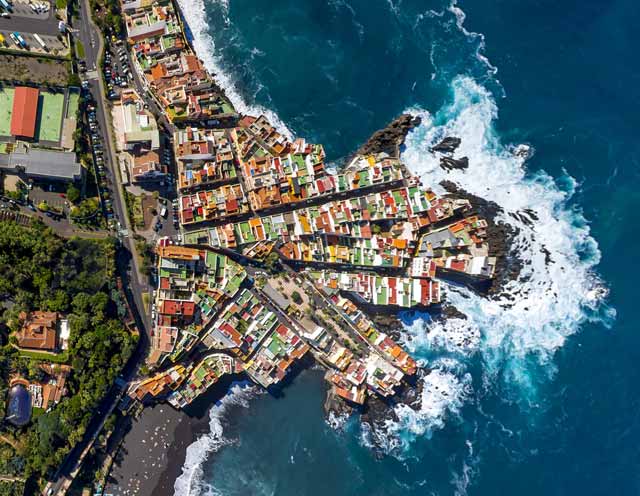 Explore the diverse landscapes in 360° panoramic pictures, provided by webtenerife.com.
Auditorio de Tenerife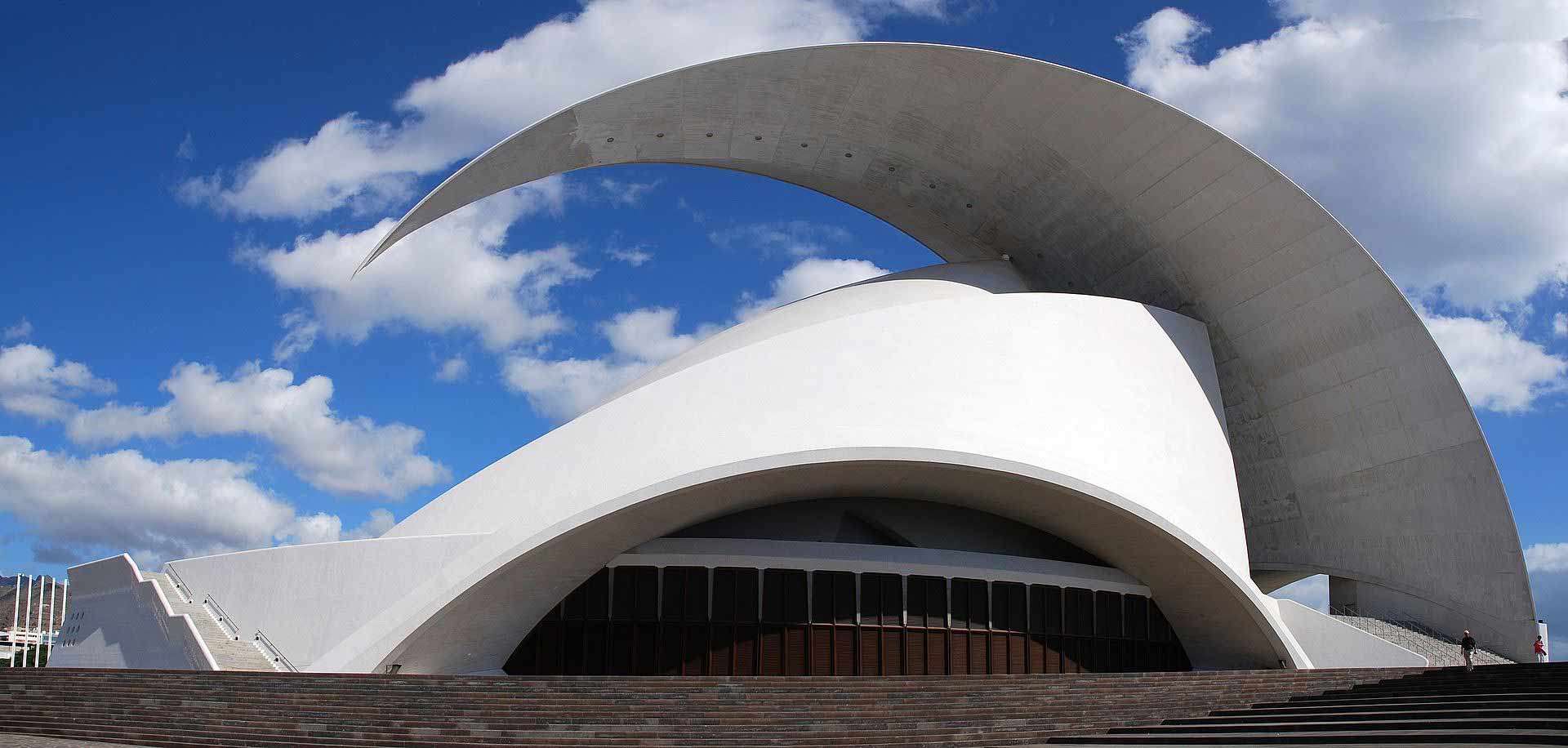 Tenerife is home to an iconic opera house, that easily compares to Sydney Opera. One of the best symphonic orchestras of spain is located in the Auditorio de Tenerife.

Auditorio de Tenerife on Wikipedia »